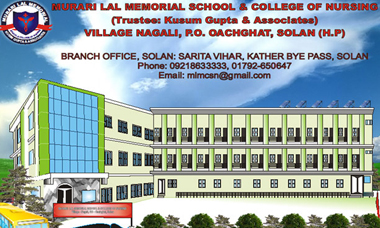 M/s Kusum Gupta & Associates Trust accepted with humility to start a nursing institution for GNM and B.Sc. Nursing so as to provide highly trained Nursing professionals as per international standards. M/s Kusum Gupta & Associates trust has been constituted as per the trust laws of Himachal Pradesh duly registered with the appropriate authorities. The main objective is to impart training in quality nursing care to the students seeking admission.
Our professionally educated and trained nurses would be able to serve all over India and abroad. The teaching faculty is as per the INC and State Government norms. Nursing students are being posted at the Regional Hospital Solan, IGMC Shimla, IHBAS Delhi and various other peripheral institutions for their effective clinical and rural community experience. Classrooms and the labs are as per norms having the latest gadgets and equipments. On campus accommodation is provided for students and faculty members as the students are under the watchful eyes of their teachers. The hostel has 24 hours hot water supply, electricity backup , dining hall, recreational room, meditation room, playground, indoor games like table tennis, chess, carom board etc. and other facilities for over- all grooming of the students.
For convenience of the faculty members, on campus accommodation are being provided, which further helps the students to have better interaction with the faculty and provides a family atmosphere. Adequate arrangements for security of the campus and students have been made by the administration. Vehicle is available for the staff and students to commute and also for hostlers to visit the city. A spacious auditorium with high-tech equipments is provided, to hold conferences and seminars which will help to grow the knowledge of the students.